Aluminum Box Culverts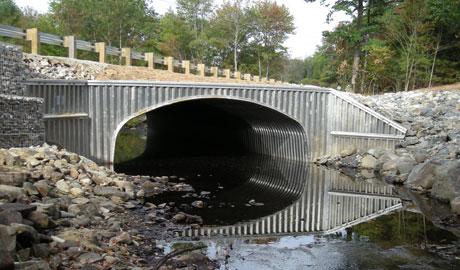 Aluminum Box Culverts are a practical and cost-effective solution for small bridge replacement. The wide-span, low-rise shapes are lightweight as well as fast and easy to install. With spans to 35 feet, Aluminum Box Culverts are available in a large range of standard sizes that permit a minimum cover of only 17 inches for all spans and handle HS-20 or HS-25 live loads. They provide excellent durability, even in saltwater environments. (We can also provide someone to help you install these aluminum box culverts).
Product Specifications:
Over 7,000 Installations since 1976
Spans to 35 ft
Wide-span, low-rise structures
Ideal for small bridge replacements
Variety of shapes and sizes
Lightweight
Fast, easy, low-cost installation
Suitable for rehabilitation
Extensive technical support
Economical solution
Services
Benefits of the Aluminum Box Culvert:
Buried Bridge Structure - Reduces maintenance costs and lowers life-cycle costs as there are no bridge deck or joints at the deck/roadway interface.
Modular Bridge System - Rapid installation results in reduced overall project costs, delays, and detours.
Designed "Site Specific" - Meets your site needs in full compliance with AASHTO, ASTM & AREMA design standards for highway and railway use.
Easy Site-Adaptability - Flexible layout options to fit within the right-of-way – curve the structure with a stream or adjust for vertical and horizontal clearance requirements.