High-Density Polyethylene (HDPE)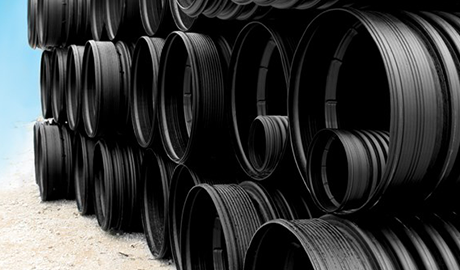 Advantage Drainage Systems (ADS) Dual Wall pipe is available in 4-inch to 60-inch diameters and is suitable for use in gravity flow drainage applications. It features a corrugated exterior for structural strength and smooth interior for maximum hydraulic efficiency. Its superior strength-to-weight ratio and flexible conduit design mean it will support H-25 live loads with a minimum cover of 1 foot, while also allowing considerable cover heights.
Advantage Drainage Systems (ADS) pipe is available with a full line of standard and custom fittings in either a soil-tight or watertight (10.8 psi) joint connection. It is also manufactured and tested in accordance with AASHTO M252 Type S, AASHTO M294 Type S, ASTM F2306 and ASTM F2648.
Product Specifications:
Watertight configuration
Dual gasket technology
Lubricant-free gasket available
Cost savings in materials and installation
60% fewer joints
More resistant to abrasion and corrosion