Ultra Flo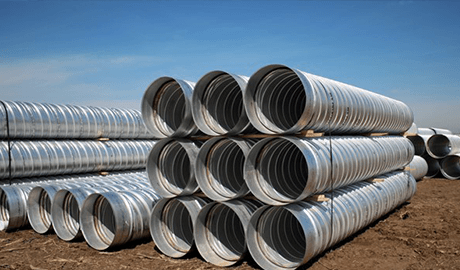 With over 20 years of proven performance, ULTRA FLO is one of the most hydraulically efficient storm sewer systems available because of its smooth interior surface and longer lengths, resulting in fewer joints and hydraulically efficient prefabricated junctions including elbows, manholes and catch basins. Available in galvanized steel, Aluminized Steel Type 2, polymer coated and aluminum to meet a wide variety of environmental and service life requirements. For projects with limited headroom, ULTRA FLO is available in pipe-arch.
Millions of feet of ULTRA FLO have been installed in thousands of storm sewer projects nationwide, providing significant cost savings. Because steel ULTRA FLO weighs less than 10% of concrete pipe, handling and installation costs are greatly reduced. Aluminum ULTRA FLO has only 1/35 the weight of concrete pipe.
Lower labor costs also result from fast and easy joining. CONTECH Quick Stab® joints or coupling bands do not require special skills or tools. Twenty-foot standard lengths mean fewer joints and faster laying. And, longer lengths are available on special order. ULTRA FLO's smaller outside diameter permits a reduction in trench widths and depths, providing time and cost savings for both excavation and backfilling operations. Shop-fabricated fittings save installation time in the field while providing hydraulically efficient junctions.
Product Specifications:
Predictable service life – capable of 100+ years
The most environmentally friendly and LEED-friendly drainage product on the market
Great strength – the strength and integrity of steel-soil structure interactions are almost unlimited
Uniquely used to rehabilitate/reline deteriorating culverts
Benefits of ULTRA FLO pipe:
Economical - Longer, smaller diameter and lighter weight than concrete means economy when installing
Proven Structural Strength - Shown to be equivalent to reinforced concrete pipe
Hydraulically Efficient - Manning's "n" of 0.012
Multiple coatings available - Meets a wide variety of environmental and service life requirement