Bridge Plank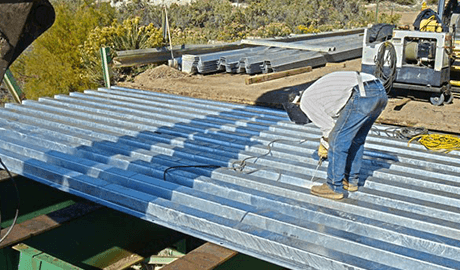 Bridge Plank is used for re-decking bridges and for new construction, either to replace deteriorated wood or concrete decks on otherwise structurally sound bridges, or as a high-strength continuous bridge deck surface for new bridges. Once welded or bolted in place, our bridge plank restores strength to old structures and stiffens bridges laterally, providing a solid base for new asphalt paving and eliminating rattles.
With Steel Bridge Plank, there is nothing to crack, warp or rot. Repeated, expensive repair work on the bridge floor comes to a halt, and the danger of fire is minimized. Our Bridge Plank also eliminates reduced load limits caused by inadequate flooring.
CONTECH Steel Bridge Plank comes in different corrugation patterns to fit various deck loading requirements. Installation requires no special crews or equipment. The structural-quality steel used to manufacture our Bridge Plank conforms to the requirements of ASTM A 570 or ASTM A 907, depending on metal thickness. Zinc coatings, when ordered, are in accordance with ASTM A 123.
Product Specifications:
Rigid panel construction - Restores strength to old structures
Positive welded connections help stiffen the entire structure and the deck becomes an integral part of the bridge
Galvanized steel planks - Long service life with minimal maintenance
High strength-to-weight ratio - Total weight is only slightly higher than most timber floors and in some cases (especially replacement of reinforced concrete decks) the load is actually reduced
Convenient lengths and standard sizes with no special equipment or training
Fast, low-cost installation